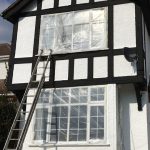 We provide a roof cleaning and roof washing service throughout County Waterford in Ireland. When it comes to cleaning down your roof, removing algae, moss and other debris off your roof, who could be better than a trained roofer who can spot problems early and make sure your roof is in perfect working condition all year round.
Our team are trained to work professionally and efficiently, with years of experience at washing down roofs, soft washing, hard washing, removing red algae and sealing roofs in Co. Waterford.
We clean all types of roofs ranging from natural slate roofing to manufactured tiles, pitch roofs and even flat roofs. Our washing services include cleaning and blowing out your guttering systems, gutter sealing and washing down the exterior walling on your roof.
During our free no obligation estimate, we can inspect the condition of your roof and provide you with a breakdown of the work. Depending on the type of tile used on your roof, we might recommend a soft washing of the roof instead of a hard wash (pressure wash) if we feel the treatment will be too harsh for the tiles.
This is why hiring a trained roofer makes a significant difference on cleaning your roof. Our roofers have worked with every variation of roof tiles and uPVC rooflines which means we can anticipate any problems before any work is done and ensure the work is done to approved standards.
We also offer the option of painting or sealing your roof to restore its colour or give it a brand new colour. Call us today where we can go through the multiple options available for cleaning your roofs, walling and the exterior of your roof.